Mission Dolores
The first church in San Francisco was the little tule arbor built by the Spanish soldiers on the site where later the Mission Dolores was constructed. It was on June 29, 1776, that the first services were conducted here. On a personal note; this Church is special to me , because my oldest daughter received First Holy Communion, and my youngest daughter was baptized here at Mission Dolores.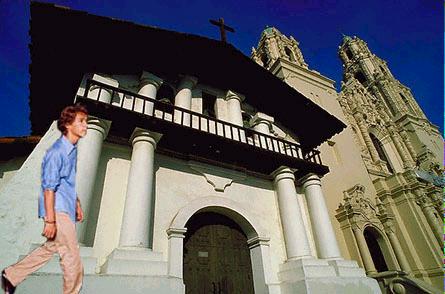 Articles
MSN Chat Transcripts June 17, 2000
I enjoyed this :) From Boys to Men, Hanson Rock Out
SPIN Online reviews This Time Around here.
There was a phone interview written up in the Pink Section of the San Francisco Chronicle today. Why do they have to ask such stupid questions???!!! You can read it here.
.HansonWorlds 3D Chat, May 6, 2000 transcripts
I scanned the SPIN June 2000 article. You can read it here.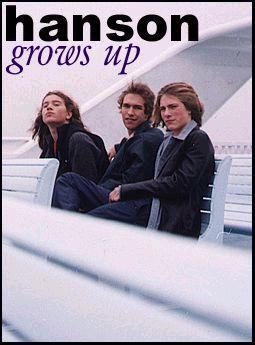 Here's a really cool Seventeen online article. Check it out!
Go here to read the April 2000 Billboard Article.
Go read this article at latimes.com. It's a pretty good read.Hanson Travels a Rockier Road 'This Time'
Hanson Unveils "This Time Around" At Listening Party
Here is a very, very awesome article from from Nylon Magazine April 2000. Becka typed it up at the Hanson hotel.
Not sure this is such a great article, but check it out anyway and decide for yourself. New York Daily News Online
What has Hanson been up to Down Under? Check out this article from undercover.net.au.
Hanson will launch Hanson.net at midnight, Eastern Time on Wednesday, March 29 . Read about the Launch of Hanson.net in this press release.
Hanson Feature at Much Music.Com
ENTERTAINMENT WEEKLY | EW DAILY | March 7, 2000 | Hanson, This Time Around
MTV ONLINE has a cool article up. It's called hanson: a good wow. Go here to read it. It's on a few pages so keep going till you read the whole thing!
Check out this new article at MTV ONLINE Hanson Rolls Camera On "This Time Around"
Check out this article about Hanson's appearance at the Monroeville Mall. Here.
Becka at the Hanson Hotel has tons of really great articles all typed up and ready for you to enjoy! Go here to check them out!